Undergraduate Research Symposium- 2023
The 5th Undergraduate Research Symposium 2023 of the Faculty of Allied Health Sciences (FAHS) was held at the Hoover Auditorium, Faculty of Medicine, on 28th March 2023 under the
theme of "Strengthening Healthcare through Research and Innovation". Prof. S. Srisatkunarajah, Vice-Chancellor of the University of Jaffna, Mrs. Deivy Thabotharan, Dean, FAHS, Deans of other faculties, and other dignitaries participated as special guests of the symposium. The keynote speech was delivered by Prof. Niroshini Nirmalan, chair in Molecular Biosciences, university of Salford, Manchester, United Kingdom, on "Scientific Research Careers: Opportunities, Challenges and Rewards" via Zoom.The abstract on "Knowledge of menopause among women at the Nallur MOH area" presented by Ms. S. Piraveena from the Department of Nursing has been awarded the best paper presentation award and a price of Rs. 10,000.00. The symposium was financially supported by Bank of Ceylon, Imuno Lab Pvt. Ltd, Organic Trading and the first batch graduates of FAHS.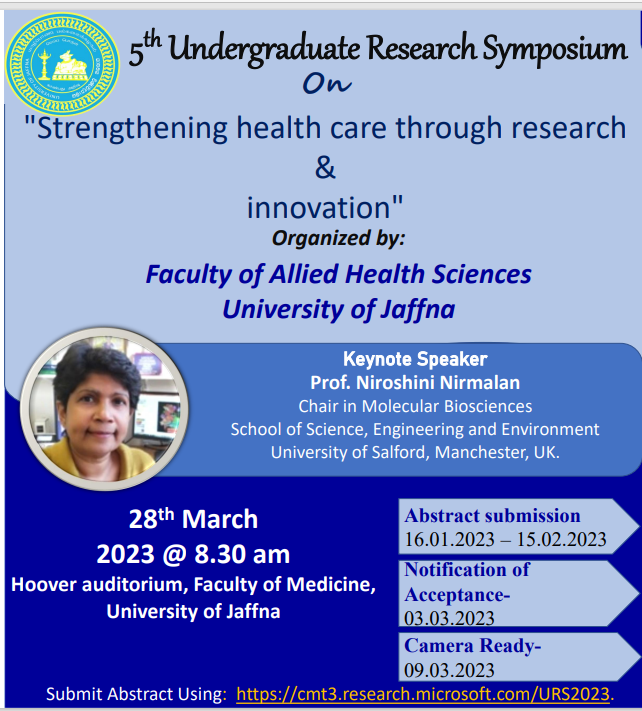 Gallary