Oath Ceremony for 15th Batch Nursing Students- 16th December 2022
Lamp lighting and oath-ceremony held as a tribute to Florence Nightingale. The Department of Nursing, Faculty of Allied Health Sciences organized the oath-ceremony of 15 th Batch (2019/2020) of BScHons(Nursing) students on 16 th December 2022, at Hoover auditorium, Faculty of Medicine. The oath-ceremony is an auspicious ceremony where the nursing
undergraduates take their oath after receiving their cap and the lamp. It is a symbolic celebration to recognize the responsibility and importance of nursing care by every budding Nurse. This celebration was conducted for the students who complete their first year and entering the second year of BScHons(Nursing) degree at Department of Nursing, Faculty of Allied Health Sciences, Jaffna. Rev. Sr. Dr. Josepha Joseph, Retired Senior Lecturer in Nursing, Dept. of Supplementary Health Sciences, Faculty of Health care Sciences, EUSL, Sri Lanka was invited as Chief guest to grace the occasion. Nightingale Oath was taken by 45 numbers of BScHons (Nursing) degree students in the presence of all dignitaries. Vice-chancellor, Deans of all faculties of the University of Jaffna, Lecturers from the Faculty of Allied Health Sciences and Faculty of Medicine of the University of Jaffna, Nursing tutors from the College of Nursing, Jaffna, Nursing professionals from the teaching hospital Jaffna and base hospital, Thelipalai were invited to witness the ceremony.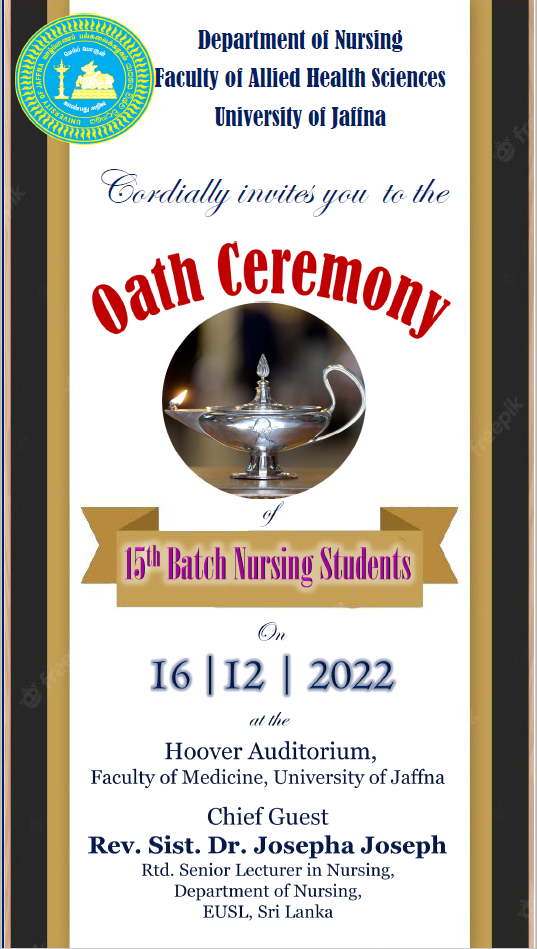 Gallery